I am stuck in a bit of a rut. I think it's just because I'm in the transition period between finishing university and becoming employed. I've even had to start saying that I'm 'unemployed' on forms etc. All of my life I've been a student, and now that I'm not, it feels so very strange.
I also can't help but be bored out of my mind most of the time, trying to find things to do. I find myself on Pinterest nearly every hour of the day, looking for cool craft projects. I'm working up the courage to make myself a clutch bag, and finally use my long-forgotten sewing machine... oops.


Now normally when I get like this, I tend to bake to my hearts content; except I'm supposed to be dieting. My mum insists that I'm going to look good for my birthday next week (only 5 more days to go!), so she's kind of banned me from baking. At the time, I thought 'Fair enough, I can do that, I'll just find other things to do'. Now all I can think is 'Sod this damn diet, let me make some cake and eat it!'
Honestly, it has been so difficult, especially when I read other blogs, and they've been making some delicious food, and all I want is to try them out.

Trust me, this time next week, I'll be back in my kitchen, making some delicious baked goods, and I can post something on here.

To make it feel like I'm actually making something, and can therefore contribute something to this blog, I decided I could make healthy(ish) savoury treats. And this salmon pâté really is a treat, it's just so delicious, and every mouthful makes me so so happy. And it also tends to leave me wanting more...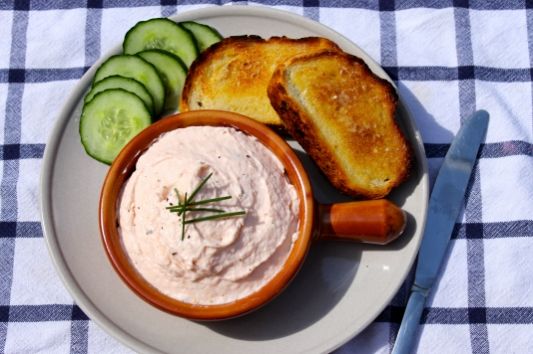 I think I found the recipe on one of my many trips to Pinterest, and once I remembered there was a pack of smoked salmon in the back of the fridge, I got to making this straight away. This is one of the quickest things I've ever made, honestly five minutes, and I was done.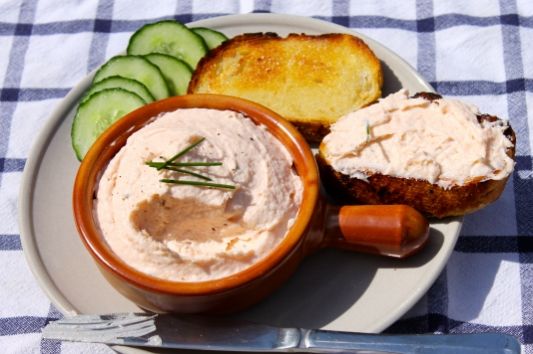 Ingredients:
200g Smoked Salmon
1tsp Horseradish Sauce
2 or 3 Chive Leaves
120g Low Fat Cream Cheese
Black Pepper
Lemon Juice
Method:
In a food processor, blend the smoked salmon into a paste.
Then add the cream cheese, horseradish and the chives, and pulse until combined.
Add pepper and lemon juice to taste, and spoon out into a serving dish.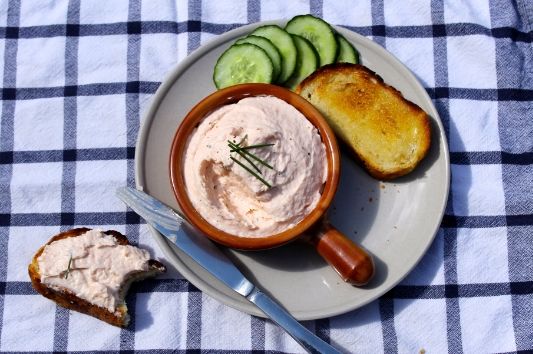 This pâté is quite versatile, as it can be served with quite a few things, depending on what you fancy. I had mine with a couple of slices of toast, but it's also delicious with oat crackers (or any other type of cracker really), and also just served with some thick pieces of cucumber.