Summer is definitely over.
It's cold, the sun has decided to hide away for most of the day, and the rain has come back.
And I'm back to wearing tights.
My mum is very much in denial. So much so that she shouts at the TV when the weather girl talks about it getting cold. And she won't let us put the heating on until the end of this month, at the earliest. She hasn't given up on summer just yet, and hasn't got her coat out of the wardrobe... unlike me.
Like I said, denial. Or maybe I'm too eager for autumn?
The one thing I'm not yet willing to give up is iced coffee. It's my new found love of the summer, I've had quite a lot of it over the past couple of months. So much so that I figured out it would be a lot more cheaper, and possibly more satisfying, if I just made it myself.
Which, obviously, I did.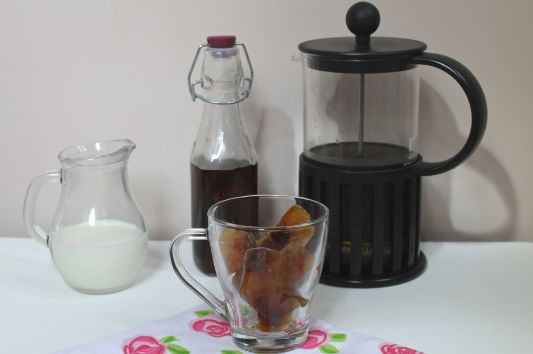 I found iced coffee to be much more refreshing than water or juice, and it obviously gave me a much needed kick to get through a busy and tiring day. It is the perfect energy drink (for me anyway).
I cold brewed the coffee by mixing about 1 cup of ground coffee with almost a litre of cold water. I had an empty water bottle which I used for storing the coffee concoction in the fridge, but you can do it in th
e
cafetiére, I just thought it would be easier storing a plastic bottle. I left the bottle in the fridge for 24 hours, and then filtered the coffee to get rid of the coffee bits.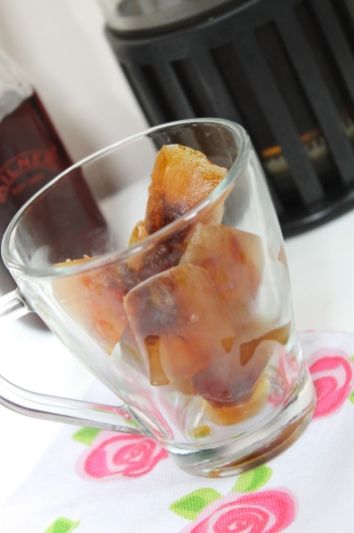 I then made my own coffee cubes, thank god for whichever person came up with that idea. It's such a clever trick. I just brewed up some coffee, and poured it into our ice tray, and left it to freeze.
I also made up some more
coffee syrup
. However, I was a bit more adventurous this time. I found some lavender extract in the supermarket a week or so ago, which I probably got a bit too excited about. Previously whenever I've wanted to use lavender in my cooking, I've had to go out into the garden to get some lavender buds, but the problem is that it's not always in season. However, now I have this extract, I don't have to worry about any of that, and a little part of my cooking has been made easier.
To serve, just pour the coffee over the coffee cubes, add a splash of milk and syrup, and drink, preferably outside in the warm sunshine. Or just inside your house while it's cold outside.