Happy Hallowe'en Everybody!!!
I love Hallowe'en so much, even though it's not as big here in the UK as it is in the US, because I always remember being a kid and going Trick or Treating. I always dressed up as a witch; Sabrina the Teenage Witch, The Worst Witch and Harry Potter all had a huge influence on me as a child.
(Let's just take a moment to reminisce about how good children's TV was in the 90s.)
Of course, as it is Hallowe'en, that means another Pumpkin related recipe. And this time it's Pumpkin Loaf.
I love using vegetables (and fruits) in loaf cakes, as it always gives a nice moistness to the cake. This loaf is a tad heavy, but it tastes delicious, with the perfect amount of flavouring.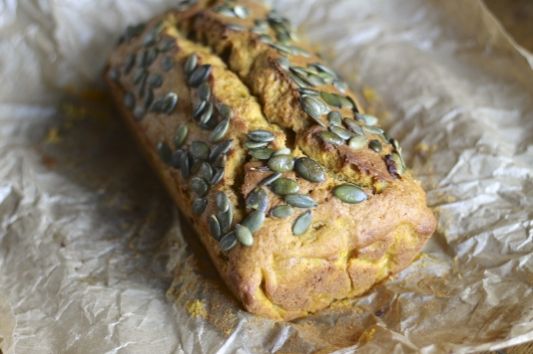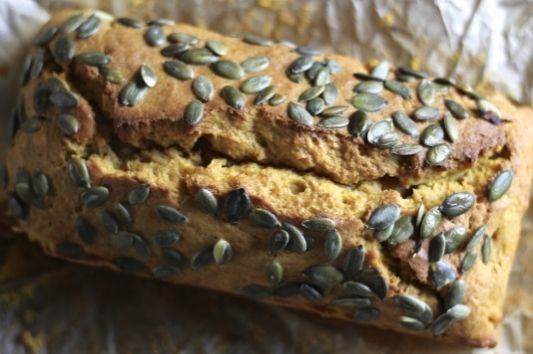 Ingredients:
1 1/2 Cups Plain Flour
1 Cup Caster Sugar
3/4tsp Salt
1tsp Baking Powder
1/2tsp Nutmeg
1/4tsp Ground Ginger
1/2tsp Ground Cinnamon
2 Eggs
1 Cup Pureed Pumpkin
1/2 Cup Vegetable Oil
1/2tsp Vanilla Extract
Handful of Pumpkin Seeds
Method:
Preheat the oven to 180C/350F/Gas Mark 4, and grease and line a loaf tin with greaseproof paper.
Sift all the dry ingredients together into a large bowl, while in a separate bowl, mix together the egg, pumpkin, vanilla extract and oil. Add the wet ingredients to the dry, and mix together to form the batter.
Pour the cake batter into the loaf tin, and sprinkle the pumpkin seeds on the top.
Bake in the middle of the oven for an hour, or until an inserted skewer comes out clean.
Leave in the tin for 10 minutes, before putting the loaf onto a wire rack.
Serve slightly warm. By itself. Nothing else.
It's too nice to serve with anything else.
Ok, maybe a cup of tea.
Sophie xx