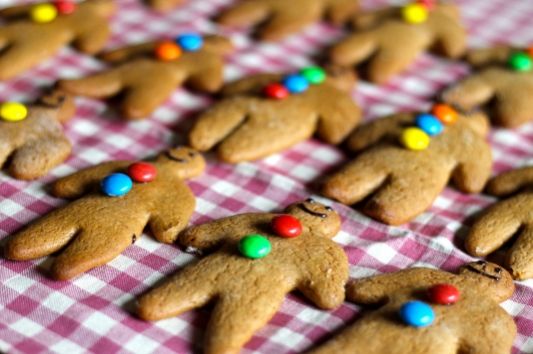 It's not Christmas without some baked goods. Whether it's mince pies, stollen, yule log or a Christmas cake; you need to do some baking. I make a yule log every year, without fail. You can read my recipe for it
here
. But I also like to do some festive baking in the weeks before Christmas. This year I thought I'd make some gingerbread men; mostly because I remembered I had bought myself a man shaped cookie cutter, and I figured it was about time I used it.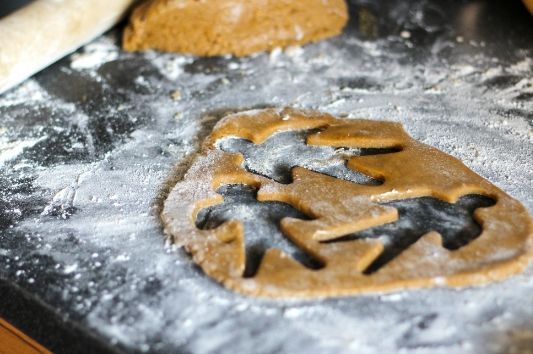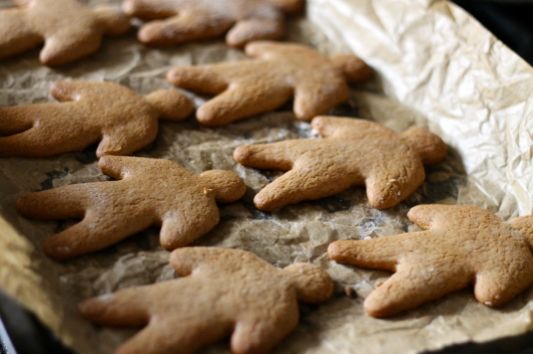 Makes approx. 35 gingerbread men
Ingredients:
350g Plain Flour
1tsp Bicarbonate of Soda
2tsp Ground Ginger
1tsp Ground Cinnamon
125g Butter
175g Light Brown Sugar
1 Egg
4tbsp Golden Syrup
Gel Icing
M&Ms or Smarties
Method:
Sift the flour, bicarbonate, ginger and cinnamon all together into a food processor. Add the butter, and blend the ingredients until the mixture forms breadcrumbs. Then stir in the sugar.
In a separate bowl, beat together the egg and golden syrup, and add this to the food processor. Pulse the mixture to form a dough.
Knead the dough together on a floured surface until smooth, wrap in cling film, and put in the fridge for 15 minutes.
Meanwhile, preheat the oven to Gas Mark 4, and line some baking trays with greaseproof paper.
Once the dough has cooled, roll out the dough on a floured surface to a thickness of approx. 0.5cm.
Cut out the man shaped biscuits using the cookie cutter, and place onto the baking tray. Make sure the biscuits are spaced apart, as they will spread a bit.
Bake for 12-15 minutes, until the biscuits are golden brown. Leave the biscuits to cool for a few minutes on the tray, before transferring to a cooling rack.
When the biscuits are completely cool, ice faces onto the gingerbread men, and stick on the sweets using spots of icing.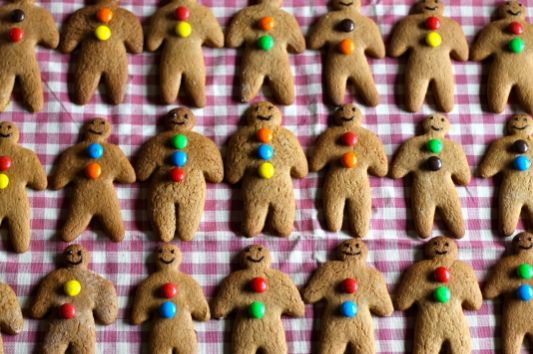 These gingerbread men came out all soft and chewy, which is just how I like them. If you prefer yours slightly more crunchy, just roll them out a bit thinner. I couldn't resist eating a few of these slightly warm, they were just so irresistible.
Sophie x