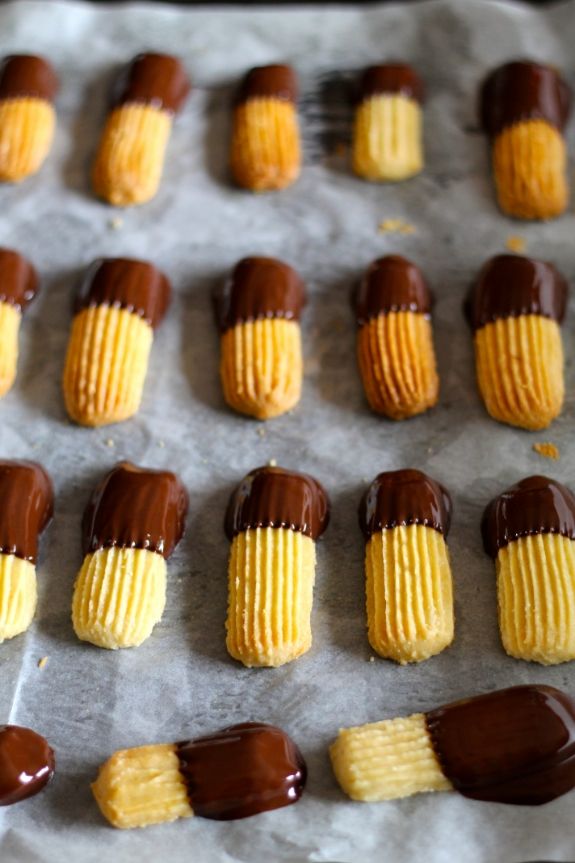 Every Christmas, my mum gets loads of presents off her clients, and the majority of the time, it's this one tin of Belgian biscuits from M&S, you might know the one I'm talking about. Unfortunately for her (or fortunately for me) she doesn't like them anymore - she's had so many she's gone off them - which means that I only have to share them with my brother.
In this tin, there are a couple of these piped biscuits, which are so yummy; they're similar to shortbread, and then to top it all off, they're then dipped in chocolate. Talk about delish.
Immediately after I ate the last one, I was starting to have withdrawal symptoms, so I had to quickly whip up a batch to make up for it. And OMG, they're even better when they're homemade.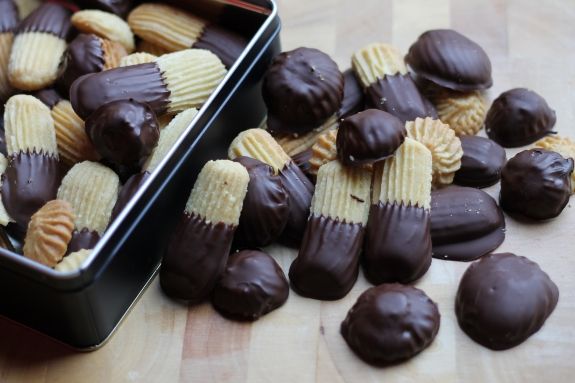 Ingredients:
250g Unsalted Butter
70g Icing Sugar
225g Plain Flour
75g Corn Flour
2tsp Vanilla Essence
2tbsp Milk (optional)
200g Dark Chocolate
Method:
First pre-heat the oven to Gas Mark 3/ 170C/ 325F, and line some baking trays with some baking parchment. In a large mixing bowl, or a stand mixer, cream together the butter and icing sugar, until pale. Sieve the flour and corn flour together into the mixing bowl, and mix all the ingredients together, before adding the vanilla extract. If the mixture is a bit thick, add a couple of tablespoons of milk. Spoon the mixture into a piping bag with a star piping nozzle, and pipe onto the baking trays in whatever shape you like. Bake in the oven for between 15-18 minutes, until the biscuits are lightly golden brown. Transfer to a wire rack to cool.
Once cool, melt the dark chocolate, and dip the biscuits into the chocolate, and place the biscuits onto some more baking parchment to let the chocolate harden. This can take a while, depending on how warm your house is.
I made sure to put these biscuits straight into the biscuit tin, and served them with some coffee. Absolute perfection.
Sophie x