I have been buying a lot of products recently, like I've been going crazy. I think it's because I've recently found a new favourite makeup blogger,
essiebutton
, who is also on youtube; I seriously recommend you check her out if you haven't already, she is just amazing!
But anyway, at the beginning of last month, I was basically wearing the same old boring makeup every day, using the same old products I've had for a year or so, not doing anything more than the basic foundation, and I was getting fed up. But then I found essiebutton, and I was inspired to buy some new products, and so I've finally changed up my makeup routine. I don't know about you guys, but sometimes just changing something as simple as your makeup can actually really make your day feel a whole lot better, like you are adding a little something extra to start off your day.
So because I have a few new products in my life, I thought I would start this new feature of my monthly favourites. Obviously the majority of bloggers are already doing this, so surely it's about time I did it too? This month features only beauty products, but that won't always be the case, it most likely will feature non-beauty related products as well. So without further ado, here is what I've been loving this past month:
Soap & Glory Sugar Crush Body Wash
This smells ah-mazing! Honestly, I love citrus body wash for when I'm in the shower, and this stuff is just perfect. It smells almost like a key lime pie, if a bit sweeter, and every time I use it, it instantly puts a smile on my face. Plus it has the added bonus of making my skin silky smooth. But we don't care about that, just how good it smells ;). And because it's the huge 500ml bottle, it always lasts me 4-5 months, sometimes more, so at £6.50 a bottle, I think it's hugely cost effective.
VO5 Plump It Up Dry Backcombing Spray
I've recently had my hair cut to just below my shoulders, because my hair is quite thick and heavy, and previously I found that it would never hold any hairstyles for very long. I love a bit of volume in my hair, specifically for doing some mini-beehives, which meant quite a bit of backcombing with a good old comb. But then I found out about this product, which basically does all the work for me, and in a shorter amount of time. It's really simple to use, you just shake the can and spray into the roots, then just rub it into your roots a little bit, and the result is a a bit of oomph in your hair. Perfect when you only have five minutes to do your hair.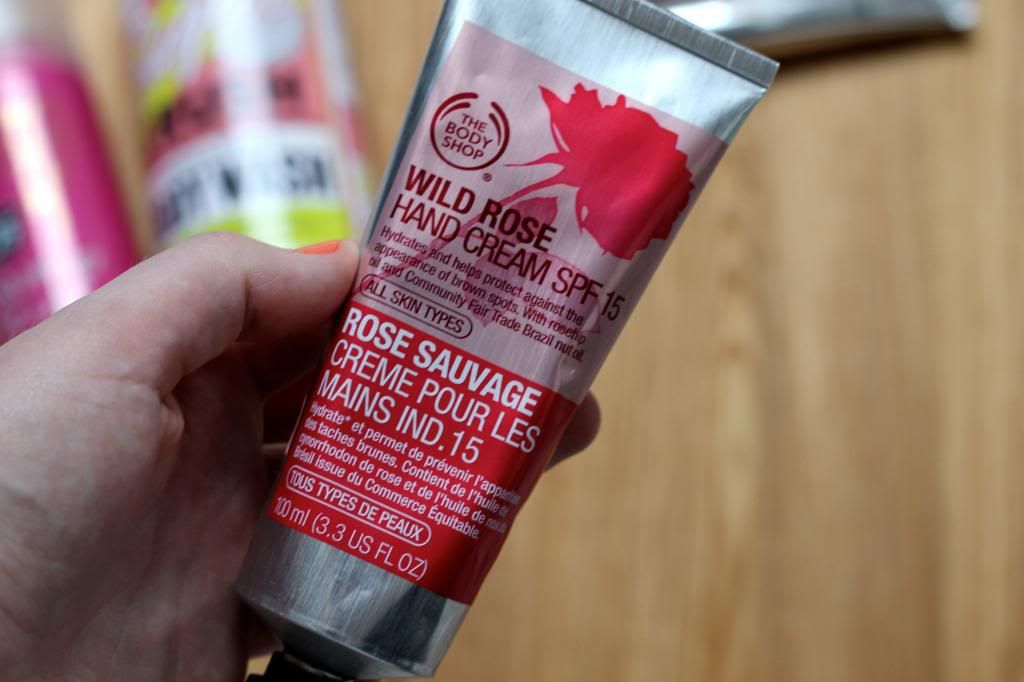 Bodyshop Wild Rose Hand Cream
I love anything rose scented. I don't know why, but rose is just my favourite floral scent. It just makes me think of English gardens and cottages in the countryside... Anyway, I sometimes get really dry and itchy hands, and sometimes they can be sensitive with certain hand creams, but this Bodyshop hand cream is just gorgeous, it makes my hands really smooth, and it lasts for ages; I normally just apply it once a day, occasionally twice. Plus it's SPF15 which is always good considering it's now summer.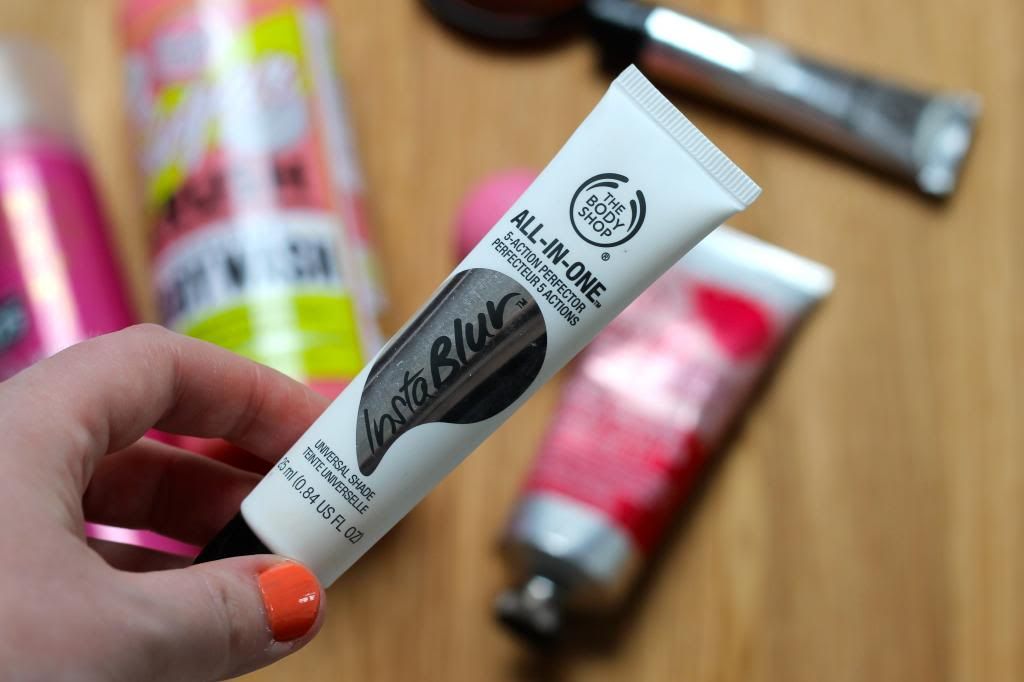 Bodyshop All-In-One Instablur
This stuff is basically a primer that you apply to your face, and it instantly smoothes out your skin, reducing the look of your pores and any blemishes on your face. I love how it makes my skin feel, and you can actually use this by itself without any foundation, because it gives your face this lovely glow. But if you do use it with foundation, it works wonderfully at making your makeup last; I've actually found that my makeup will last the whole day if I use this primer. I also think it's quite well priced at £14, which is cheaper than other primers I've bought before. It also works perfectly with the BB cream below.
Bodyshop All-In-One BB Cream
This is a really nice BB cream, it's very light on your skin, which is perfect for the summer, and I think it blends really nicely. I've found previously with BB creams that the shade is sometimes a bit orange on your skin, but the body shop BB cream comes in a variety of shades, so it's easier to find one that fits with your skin colour. The assistant in my local Bodyshop recommended that I use the '00' shade... yeah I'm that pale, but it really does work, and it looks like my normal skin colour. One of the best BB creams out there, and it's only £12!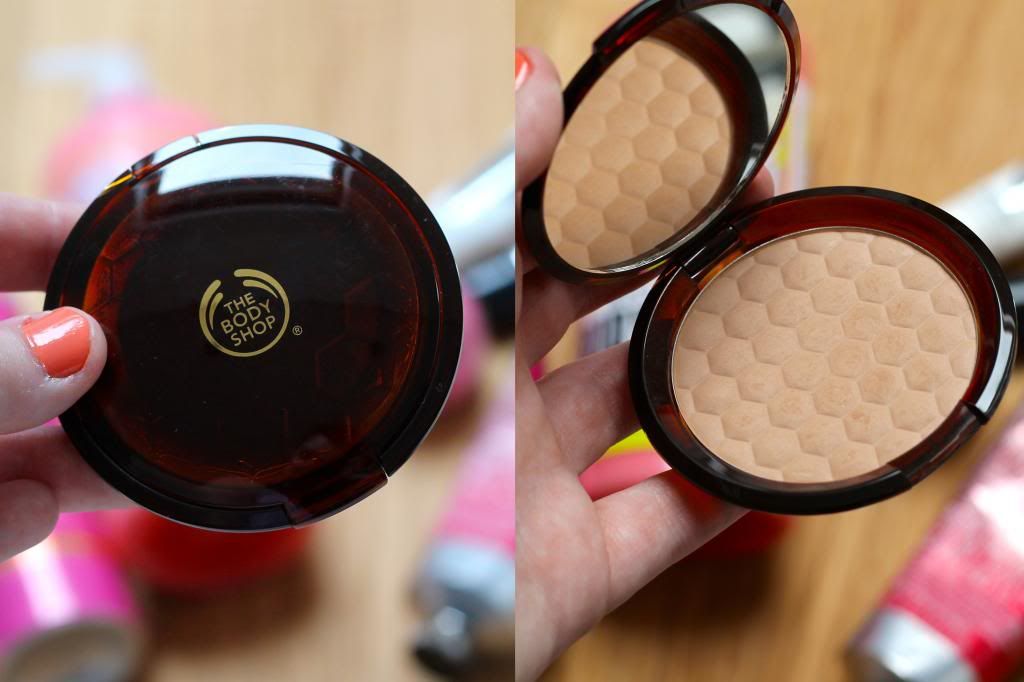 Bodyshop Honey Bronze Bronzing Powder
I will admit I've never used bronzers before, and I probably wouldn't have if it hadn't of been for essiebutton. Apparently it's one of her makeup must haves, and she's used it in quite a lot of her videos, and when I saw how it gave her skin a more natural looking glow, I thought I would give this a go. This again comes in a variety of shades, and I bought the '02' shade. It gives a nice subtle bronzing to your face, without seeming too orange or like your face has some dirt on it; it really does give you a natural glow. It costs £13, which is a bit expensive, but I think the fact that it works so well means it's worth the price.
EOS Strawberry Sorbet Lip Balm
I
love
eos lip balm. I always have one on me, and there is always one of these little spheres kept in my bag, because I am applying it to my lips all of the time! It makes my lips so smooth, and they always help my lips out when they are dry and chapped. Actually this past winter I didn't have a problem with chapped lips, because I just used this multiple times a day. This stuff is just heavenly! Unfortunately, living in England, you can't buy this in any stores, however, you can buy multipacks off eBay, and it works out to be really cheap. I would definitely recommend this to everyone.
So there you have it, my first post of the monthly favourites series, I hope you enjoyed it :). I can't wait to see what will be in next month's post.
Sophie x